Where did it all begin?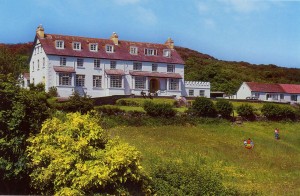 The Shandon re-opened in March 2016 under new ownership & management.  It was launched as a high end 4 star resort on the Wild Atlantic Way, with a young, vibrant team whose focus was on creating a spectacular guest experience.  Since opening the property has been gradually and continually improved over the last two years.  The car park has been re-surfaced, all Deluxe bedrooms has had new bathrooms, all corridors and Leisure Club entrance hall has been re-carpeted.  A new bar named after the Proprietors Grandfathers (JonJo's) has been launch on level two along with a brand new Restaurant – Marbles, all of which have spectacular bay views.
The hotel is currently in the process of constructed an additional 18 bedrooms which will be completed by July 2018.
For more details on it's history click on the links below
For more information, feel free to chat to any member of the Shandon team [email protected]